Please explain the following terminology and it's relevance to damp properties in Medway:
9″ imperial stocks, pointing, flank-walls, parapets, chimney-stacks and wicking
Porosity and exposure; two fundamental elements in explaining the relevance of that particular terminology.
9″ Imperial stock bricks: 9″ is the length. Imperial refers to the measurement, i.e. imperial or metric. Stocks are a light weight highly porous brick.
Pointing: When a brick wall is built, it is jointed afterwoods ,i.e the mortar is smoothed over. When the joints perish over time (the bed-joint and perps) it is 'pointed.
Parapets: The brickwork on the roof which divides one roof from the next in a row of terrace properties. It's there to stop fire spreading to the adjoining house.
Chimney-stack: The chimney-stack is the most exposed part of a property (especially the one one the small back bedroom on most Victorian terraces).
Wicking: The archaic term 'wicking' refers to the effect of the chimney-stack reaching a point of saturation through prolonged expose and as a result, moisture being drawn through into the masonry, often along the parapet and into the bedrooms below.
Flank-wall: The flank wall is the exposed wall of a property which is not the front or rear wall; most notably the exposed side wall on an end-of terrace.
All of the above are prone to deterioration, highly porous and always in an exposed location and as such are often the cause of damp.
It should be noted that modern living practices aren't necessarily compatible with old properties. The Victorian terrace was never intended to be be divide up into bedsits. Central heating, although a modern necessity and indeed an essential element in damp prevention, also has its downside when radiators are used to dry laundry. A wet towel place on a bedroom radiator will contribute tenfold to atmospheric moisture content. The resultant condensation will saturate an exposed flank-wall and if ventilation is restricted all the elements for Stachybotrys growth are in place. Double or triple glazing, again essential for the requirements of modern life; however, ventilation must be accounted for.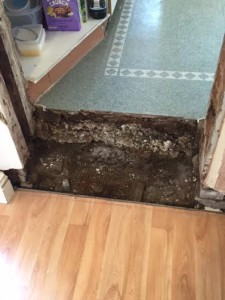 ​
Above: On removing the perished timber step, door-frame and architrave, the source of ingress became all too apparent. Raised exterior ground level bridging DPC ensured consistent raised moisture content directly into the concrete and DPM deficient soil and chalk kitchen floor.